Bauhinia (Redbud Woman)

The Chinese Redbud Woman seen in Beijing.

Real Name

Unknown

First Appearance

Unknown
Origin
As reported by Andrew Handley:
"...few superheroes, man or woman, paint such a heartwarming picture as the Chinese Redbud Woman. She has been spotted several times in Beijing wearing a mask and cape and handing out food to homeless people on the streets."
Notes
There may or may not be two "Chinese Redbud Womans" out there: one has appeared in Beijing and another in Hong Kong, with contradictory reports as to which one is the original or if both are one and the same!
The identity and look of the "Chinese Redbud Woman" would technically be owned by whoever it is behind the mask however, with her identity being secret, nobody knows who that is so...
It should be noted that police response to real life superheroes is typically negative, who view them as vigilantes.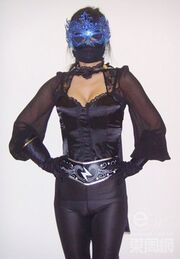 See Also
Ad blocker interference detected!
Wikia is a free-to-use site that makes money from advertising. We have a modified experience for viewers using ad blockers

Wikia is not accessible if you've made further modifications. Remove the custom ad blocker rule(s) and the page will load as expected.