Big, Bad Wolf



Real Name

Wolf

First Appearance

Unknown

Created by

Unknown
Origin
The Big, Bad Wolf is a villainous, giant wolf who appears in many fables and fairy tales. In the story of the Three Little Pigs, he displays the ability to exhale large amounts of air.
The Wolf is also known to take on disguises such as when he was in sheep's clothing or when he disguised himself as Little Red Riding Hood's Grandmother.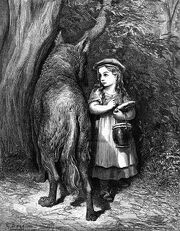 He may be based on the giant wolves from Norse mythology: Fenris and Skoll.
Folk/Fairy Tale Appearances
Aesop's Fables
The Dog and the Wolf
The Wolf in Sheep's Clothing
The Crane and the Wolf
The Wolf and the Lamb
Grimm's Fairy Tales
The Wolf and the Seven Young Kids
Three Little Pigs
Golden Age Comic Appearances
Captain Marvel Adventures #9
Sparkling Stars #7
Jolly Jingles #15
Four Color #60, 68
Nuttylife #2: The Wolf battles Cosmo Cat after kidnapping Red Riding Hood.
Jack-in-the-Box Comics #11: Appears on the cover, about to hatchet a little pig.
Four Color #185: The Easter Bunny and the Three Little Pigs outwit the Wolf.
Peter Cottontail #1: A rabbit's involvement in the story of Little Red Riding Hood.
Panic #1
Speedy Rabbit #1,14: Re-prints story from Peter Cottontail #1.
Public Domain Comic Appearances Inspired by the Big, Bad Wolf
Fantastic Fears #8: Horror version of Little Red Riding Hood with the Big, Bad Wolf as a werewolf.
See Also