Black Angel



Real Name

Sylvia Manners

First Appearance

Air Fighters Comics #2 (1942)

Original Publisher

Hillman

Created by

John Cassone
Origin
Sylvia Manners an English society lady who was sent to live an an ancient castle with her aunt in the wake of the London bombings. She acted demure and sickly in public, but when the Nazi agents threatened her homeland, she slipped into the castle's secret underground hangar and flew her plane against the Nazis as Black Angel. Later on, she met Colonel Prince, the RAF air ace known as "Black Prince." The good colonial was infatuated with Black Angel, and Silvia was happy to return his affections (at least while she was in costume).  Black Angel battled such enemies as Baroness Blood and the Son of Rasputin.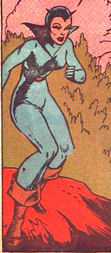 Powers and Abilities
While Black Angel did not have super powers, she was a skilled pilot and fighter. She also used poison darts to take out enemies.
Public Domain Appearances
Air Fighters Comics vol. 1 #2-12
See Also
Ad blocker interference detected!
Wikia is a free-to-use site that makes money from advertising. We have a modified experience for viewers using ad blockers

Wikia is not accessible if you've made further modifications. Remove the custom ad blocker rule(s) and the page will load as expected.