Black Fury



Real Name

John Perry

First Appearance

Fantastic Comics #17 (Apr 1941)

Original Publisher

Fox Features/Holyoke

Created by

Dennis Neville
Origin
John Perry works for the Daily Clarion as a gossip columnist and writes crime reports. He decides that he can get the best reports by doing a little undercover journalism, so he puts on a disguise and goes out to investigate. He is partnered with his ward, "Chuck" Marley (Kid Fury), the son of a slain cop. Neither of them have superpowers, but they are in excellent physical shape.
Public Domain Appearances
Fantastic Comics #17-23
V...-Comics #1-2
Blue Beetle #12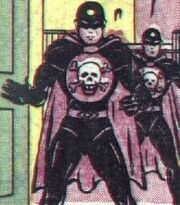 See Also
Ad blocker interference detected!
Wikia is a free-to-use site that makes money from advertising. We have a modified experience for viewers using ad blockers

Wikia is not accessible if you've made further modifications. Remove the custom ad blocker rule(s) and the page will load as expected.