Ad blocker interference detected!
Wikia is a free-to-use site that makes money from advertising. We have a modified experience for viewers using ad blockers

Wikia is not accessible if you've made further modifications. Remove the custom ad blocker rule(s) and the page will load as expected.
Black Fury

Black Fury

Real Name

John Perry

First Appearance

Fantastic Comics #17 (1940)

Original Publisher

Fox Features/Holyoke

Created by

Dennis Neville
Golden Age Origin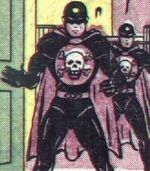 John Perry works for the Daily Clarion as a gossip columnist and writes crime reports. He decides that he can get the best reports by doing a little undercover journalism, so he puts on a disguise and goes out to investigate. He is partnered with his ward, "Chuck" Marley (Kid Fury), the son of a slain cop. Neither of them have superpowers, but they are in excellent physical shape.
Golden Age Appearances
Fantastic Comics # 17-23
V...-Comics # 1-2
Blue Beetle # 12
See Also