Ad blocker interference detected!
Wikia is a free-to-use site that makes money from advertising. We have a modified experience for viewers using ad blockers

Wikia is not accessible if you've made further modifications. Remove the custom ad blocker rule(s) and the page will load as expected.
Black Lion

Black Lion busts down a door

Real Name

George Davis

First Appearance

Wonderworld Comics #21 (January 1941)

Original Publisher

Fox Features

Created by

Jerome Peters
Golden Age Origin
George Davis, a very successful (and therefore bored) big game hunter, decides to go after the most dangerous game and begins hunting criminals. He is never specifically said to have superpowers, but the stories show him surviving otherwise mortal wounds in superhuman fashion. He is cat-like in his agility and strength and is a good fighter. He is helped by his side-kick, Cub.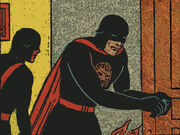 Black Lion battled Blitz, the notorious super-criminal.
Golden Age Appearances
Wonderworld Comics #21-27
See Also