Black Orchid



Real Name

Judy Allen

First Appearance

All-New Short Story Comics #2 (March 1943)

Original Publisher

Harvey

Created by

George Tuska
Origin
Judy Allen was the partner of Rocky Ford, a private investigator. Unbeknownst to Ford, Allen was secretly a non-powered hero known as Black Orchid. Meanwhile, unbeknownst to Allen, Ford was secretly a costumed hero known as Scarlet Nemesis. The two remained oblivious to each others' costumed alter egos.
Their only appearance establishes that, as Scarlet Nemesis and Black Orchid, they teamed up several times before. During the first meeting, they agreed not to investigate each others' secret identities. Ironically, the end of the story indicates that Allen would like to share his secret with Ford but can't bring herself to do it.
Public Domain Appearances
All New Short Story Comics #2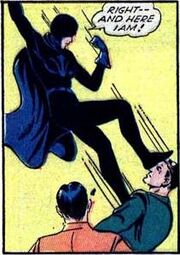 Notes
See Also
Ad blocker interference detected!
Wikia is a free-to-use site that makes money from advertising. We have a modified experience for viewers using ad blockers

Wikia is not accessible if you've made further modifications. Remove the custom ad blocker rule(s) and the page will load as expected.