Black Wings/Night Devils



Real Names

Lt. Dan Cork and Lt. Tom Harrow

First Appearance

War Comics #4 (1941)

Original Publisher

Dell

Created by

Unknown
Golden Age Origin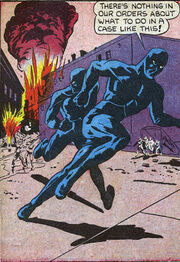 The Black Wings, later called the Night Devils, were British special Agents 5 and 9, a.k.a. Lt. Dan Cork and Lt. Tom Harrow. In their first published appearance, the agents parachuted into Berlin to destroy a German camouflage factory and in their second adventure they helped to extract an English spy, Agent 4-73, from enemy territory.
Golden Age Appearances
War Comics #4 (as the Black Wings)
War Stories #5-8 (as the Night Devils)
Notes
The name of the feature changed from Black Wings to Night Devils with War Stories #5.
See Also
Ad blocker interference detected!
Wikia is a free-to-use site that makes money from advertising. We have a modified experience for viewers using ad blockers

Wikia is not accessible if you've made further modifications. Remove the custom ad blocker rule(s) and the page will load as expected.