Bo Briantus

from Black Terror #22

Real Name

Bo Briantus

First Appearance

Black Terror #22 (1948)

Original Publisher

Nedor

Created by

Sheldon Mayer
Golden Age Origin
Bo Briantus was a chemist of the year 9767 AD. He developed an antidote to the chemicals with which Kroll Mull drugged his subjects to make them think the images from his dream palaces were real. He broke into a dream palace where the Black Terror and Tim were imprisoned and helped them escape. Together, they overthrew Kroll Mull and brought him to justice using atomic weapons Briantus had designed. The Black Terror appointed Bo Briantus as his deputy and returned to the present with a little memento from the future.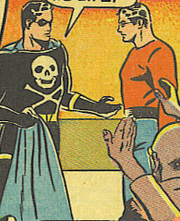 Golden Age Appearance
Black Terror #22
Notes
Bo Briantus had a similar appearance and occupation to Bob Benton, not to mention the same initials, and may have been his descendant. If this is the case, he may have been subconsciously inspired by the Black Terror to take his heroic role, just as the Black Terror seems to have been subconsciously inspired by his own ancestor(s). His outfit also makes him resemble Doc Strange. Given Kroll Mull's odd comment about how spies often dress as legendary heroes of the past, this may have been intentional.
Ad blocker interference detected!
Wikia is a free-to-use site that makes money from advertising. We have a modified experience for viewers using ad blockers

Wikia is not accessible if you've made further modifications. Remove the custom ad blocker rule(s) and the page will load as expected.