Ad blocker interference detected!
Wikia is a free-to-use site that makes money from advertising. We have a modified experience for viewers using ad blockers

Wikia is not accessible if you've made further modifications. Remove the custom ad blocker rule(s) and the page will load as expected.
Bobby Shelby



Real Name

Bobby Shelby

First Appearance

Blue Bolt vol. 7 #2 (July, 1946)

Original Publisher

The Shelby Cycle Company

Created by

Unknown
Origin
Bobby Shelby was the mascot for the Shelby Cycle Company appearing in half-page comic strips within comic books throughout the late 1940s and early 50s. Originally, he would merely teach bike safety however, he did eventually star in his own self-titled, mail-in comic.
Public Domain Appearances
Blue Bolt vol. 7 #2
4Most vol. 5 #3-4, vol. 6 #1
Sparkler Comics vol. 6 #11
True Comics #74
Crown Comics #18
Family Funnies #6
Green Hornet, Racket Buster #45
Humphrey Comics #5, 18-19
Invisible Scarlet O'Neil #2
Joe Palooka Comics #31
Rags Rabbit #13
Terry and the Pirates Comics #15, 22
Bobby Shelby Comics #1
Black Cat vol. 1 #10-11, 16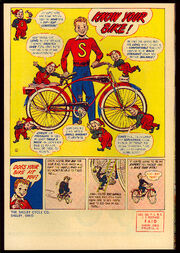 See Also