Ad blocker interference detected!
Wikia is a free-to-use site that makes money from advertising. We have a modified experience for viewers using ad blockers

Wikia is not accessible if you've made further modifications. Remove the custom ad blocker rule(s) and the page will load as expected.
Boomerang



Real Name

Lloyd Raleigh

First Appearance

Terrific Comics #2 (1944)

Original Publisher

Holyoke/Continental

Created by

L.B. Cole & Alex Schomburg
Golden Age Origin
Captain Lloyd Raleigh of the U.S. Intelligence decides to become the undercover crime fighter known as the Boomerang. His partner is his girlfriend, Diana. He has no powers but is a skilled acrobatic, an excellent fighter, and especially skillful with the boomerang. Their enemies include the Duke of Terror.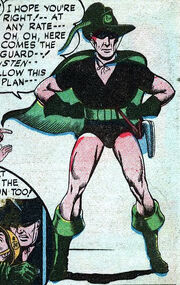 Golden Age Appearances
See Also