Buddy Smith



Real Name

Buddy Smith

First Appearance

National Comics #1 (1940)

Original Publisher

Quality

Created by

Will Eisner
Golden Age Origin
Buddy Smith was a young boy who Uncle Sam (Quality) came upon during his first appearance. Buddy was crying because his dad, Ezra Smith, was killed by the murderous Purple Shirts, a crypto-Nazi gang. Uncle Sam defeated the Purple Shirts because he felt sorry for the boy. Then, Uncle Sam effectively adopted Buddy Smith who became his sidekick. Buddy had no superhuman abilities, but he was brave and scrappy.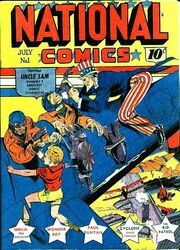 Golden Age Appearances
See Also
Ad blocker interference detected!
Wikia is a free-to-use site that makes money from advertising. We have a modified experience for viewers using ad blockers

Wikia is not accessible if you've made further modifications. Remove the custom ad blocker rule(s) and the page will load as expected.