Capt. V



Real Name

Alan Dale

First Appearance

All Top Comics (1944)

Original Publisher

Fox Features

Created by

Alec Hope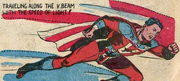 Origin
In his lone adventure, Capt. V battles the cunning devices of the Royal Family of Crime.
Powers and Abilities
Capt. V could travel along his "V.Beam" at the speed of light!
Public Domain Appearances
All Top Comics
The Book of Comics (cover only)
Notes
See Also
Ad blocker interference detected!
Wikia is a free-to-use site that makes money from advertising. We have a modified experience for viewers using ad blockers

Wikia is not accessible if you've made further modifications. Remove the custom ad blocker rule(s) and the page will load as expected.