Captain Battle



Real Name

Jonathan Battle

First Appearance

Silver Streak Comics #10 (May 1941)

Original Publisher

Lev Gleason

Created by

Jack Binder & Carl Formes
Origin
John Battle, a veteran of World War I, saw that another war was coming and decided to stop it before it could happen. He was wounded in the first war and didn't want to see that happen to anyone else. He set up a laboratory on top of a mountain and began fighting against warmongers. Besides his various assistants, such as his secretary Jane Lorrain, he was partnered with his son, Captain Battle Jr. and sidekick, Nathan Hale. Captain Battle also teamed up with heroes such as Lance Hale. He had no superpowers but has advanced technology, including the Curvoscope, which allowed him to see anywhere on earth, a Dissolvo Gun which disintegrated matter, a gyroscope-like Luceflyer, and a jetpack. His enemies included Black Dragon and his Deaglos as well as Baron Doom.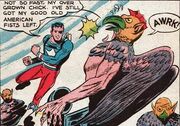 Public Domain Appearances
Captain Battle Comics #1-5
Silver Streak Comics #10-21
Notes
See Also
Ad blocker interference detected!
Wikia is a free-to-use site that makes money from advertising. We have a modified experience for viewers using ad blockers

Wikia is not accessible if you've made further modifications. Remove the custom ad blocker rule(s) and the page will load as expected.