Captain Midnight



Real Name

Captain Jim "Red" Albright

First Appearances

Captain Midnight (radio show, 1938)

Original Publisher

Created by

Jack Binder
Origin
Dell Comics Version
Dell Comics continued the adventures of the old time radio drama version of Captain Midnight. Here, he was a World War I flying ace and leader of the US Military's elite "Secret Squadron." He had earned the nickname "Captain Midnight after returning from a mission at the stroke of 12. Captain Midnight battled injustice and villains such as Ivan Shark.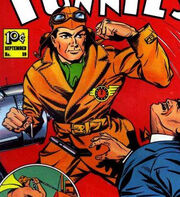 Fawcett Version
Captain Midnight, a.k.a. Captain Albright, was a genius inventor who had secret lab located somewhere in Nevada. He wore a skin tight suit that had a "Gliderchute" (similar to a wingsuit) attached to the sides which allowed him to glide like a flying squirrel. He used other gadgets such as his Swing-Spring (a projecting swing-line), Blackout Bomb and Doom-Beam Torch.
He fought Nazis such as Baron Von Gatz and Japanese agents such as Black Mikado. After the war, he fought criminals, communists, and alien invaders, such as Jagga the Space Raider and Xog, King of Saturn. He was assisted by his sidekick Sgt. Twilight. He teamed up with Spy Smasher against Yellow Hawk.
Public Domain Appearances
Funnies #57-63
Popular Comics #75-78
Captain Midnight #1-67
America's Greatest Comics #8
All Hero Comics #1
Whiz Comics #47
See Also
Ad blocker interference detected!
Wikia is a free-to-use site that makes money from advertising. We have a modified experience for viewers using ad blockers

Wikia is not accessible if you've made further modifications. Remove the custom ad blocker rule(s) and the page will load as expected.