Captain Nippo

Captain Nippo/Nippon

Real Name

Unknown

First Appearance

Four Favorites #9 (February 1943)

Original Publisher

Ace Periodicals

Created by

Unknown
Golden Age Origin
Captain Nippo was a non-powered, costumed Japanese agent who worked to defeat the Allied powers by any means necessary. Ruthless, murderous, self-serving and prone to occasional bouts of cowardliness when facing superior opponents, Captain Nippo was one of the more competent of the embodiments of wartime anti-Japanese stereotypes. Captain Nippo was a recurring opponent of Captain Courageous.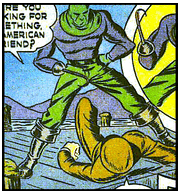 When World War II ended, Captain Nippo tried to expel the American troops from Japan, bringing him into conflict with the now non-powered Captain Courageous. But even though he and the American hero were now on equal footing in terms power, Captain Courageous still defeated him and brought him to trial.
Golden Age Appearances
Four Favorites #9, 12, 14, 16, 17, 20, 23
Notes
Ad blocker interference detected!
Wikia is a free-to-use site that makes money from advertising. We have a modified experience for viewers using ad blockers

Wikia is not accessible if you've made further modifications. Remove the custom ad blocker rule(s) and the page will load as expected.