Cobra

The Cobra

Real Name

Leo Morez

First Appearance

Super-Mystery Comics #10 (Oct 1941)

Original Publisher

Ace Periodicals

Created by

Paul Chadwick
Golden Age Origin
Leo Morez, also known as the Cobra, was a fanged Nazi agent who dresses in a green or brown snake outfit with poisoned claws.
His adversaries include Magno and Davey.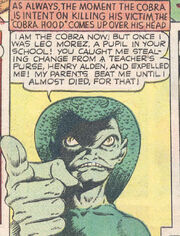 Golden Age Appearances
Super-Mystery Comics #10- 13
See Also
Ad blocker interference detected!
Wikia is a free-to-use site that makes money from advertising. We have a modified experience for viewers using ad blockers

Wikia is not accessible if you've made further modifications. Remove the custom ad blocker rule(s) and the page will load as expected.