Crimson Rider



Real Name

Mary Bennon

First Appearance

Jumbo Comics #9 (1939)

Original Publisher

Fiction House

Created by

Lou Fine as "Fred Sande"
Golden Age Origin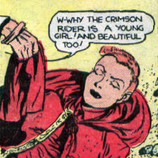 The Crimson Rider was a masked vigilante garbed in red and rode a horse named Black Satan. Her true identity was the beautiful Mary Bennon. Mary wanted revenge for her father's murder by the villainous Payson gang so she adopted the Crimson Rider persona to seek retribution. After bringing justice to the Payson gang, Mary Bennon continued as the Crimson Rider and helped out Wilton of the West and Snorty.
Abilities
She was an expert equestrian and gunfighter. She was also able to acquire incendiary ammunition that could be fired from her dual revolvers.
Golden Age Appearances
Jumbo Comics #9-10,14-15,17-18
Notes
Some online sources list Wilton of the West as the Crimson Rider but they are separate characters.
The house pen name Fred Sande, which Wilton of the West strip originator Jack Kirby used in previous issues,was used by Lou Fine since issue #4 of Jumbo Comics.
See Also