Daffy



Real Name

Daffy Dill

First Appearance

Smash Comics #41 (March, 1943)

Original Publisher

Quality

Created by

Gill Fox
Golden Age Origin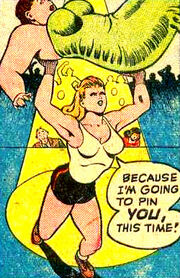 Daffy was a female professional wrestler. She had been a champion hog caller from the small town of Kookasow, Iowa, when she was discovered by wrestling manager Deke Parsons. She fell in love with Deke, though he did not feel the same. The two of them traveled around looking for matches and Daffy fought a number of criminals and unusual evil-doers outside the ring, including Atmos Fear, a time displaced Jack the Ripper and the witch, Terrible Desdemona. Daffy usually fought male wrestlers in the ring, although a few female fighters stepped up. At one point, she opened a gym to train other women.
Daffy was a huge woman with superhuman strength, sufficient to rip apart the bars of a jail cell, or smash through a wall. She was courageous, protective and honorable, but she was sometimes too trusting. She was not particularly well educated, but was an expert fighter and a champion wrestler. She could easily take on more than one man at a time.
Golden Age Comic Appearances
Smash Comics #41-85
Ad blocker interference detected!
Wikia is a free-to-use site that makes money from advertising. We have a modified experience for viewers using ad blockers

Wikia is not accessible if you've made further modifications. Remove the custom ad blocker rule(s) and the page will load as expected.