Defender



Real Name

Robert Larson

First Appearance

Rocket Comics #2 (1940)

Original Publisher

Hillman

Created by

Jack Cole
Golden Age Origin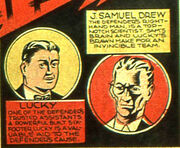 Robert Larson had his face mutilated as a child by an explosion caused by criminals who blew up a grocery. His disfigurement leads to him become the crime fighter the Defender when he grew up. He wore a special plastic mask that could be mold anyway he wanted making him a master of disguise and hiding his scars. Robert was also a master scientist, detective, and hypnotist. He was assisted by Lucky and J. Samuel Drew.
Golden Age Appearances
See Also
Ad blocker interference detected!
Wikia is a free-to-use site that makes money from advertising. We have a modified experience for viewers using ad blockers

Wikia is not accessible if you've made further modifications. Remove the custom ad blocker rule(s) and the page will load as expected.