Ad blocker interference detected!
Wikia is a free-to-use site that makes money from advertising. We have a modified experience for viewers using ad blockers

Wikia is not accessible if you've made further modifications. Remove the custom ad blocker rule(s) and the page will load as expected.
Dynamite Thor

Dynamite Thor, The Explosion Man

Real Name

Peter Thor

First Appearance

Weird Comics #6 (1940)

Original Publisher

Fox

Created by

Wright Lincoln
Golden Age Origin
Peter Thor becomes Dynamite Thor, an adventurer who wears a costume that allows him to propel himself through the air by blowing up sticks of dynamite located in his belt. Much like Joe Hercules, he uses his mythical last name as part of his new heroic identity. Dynamite Thor was the second Thor created by Fox Features Syndicate and made his appearance after the first Thor made his last appearance in Weird Comics. Thor had the power of being immune to the effect of explosives.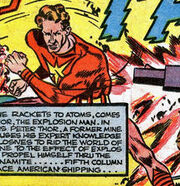 Golden Age Appearances
Blue Beetle #6-8
Weird Comics #6-7
See Also