The Face



Real Name

Tony Trent

First Appearance

Big Shot Comics #1 (May 1940)

Original Publisher

Columbia

Created by

Mart Bailey
Origin
Tony Trent, a newscaster for the radio station WBSC, witnesses a murder committed by gangsters disguised as cops. Consequentally he decides to fight crime. Having no innate superpowers, he instead uses a mask to scare criminals. Trent would use his position to learn of crimes and catch those behind them as The Face!
He works with the city's police commissioner to obtain information from the underworld .
Later circumstances caused Tony to give up his Face identity, but he still worked for the cause of justice.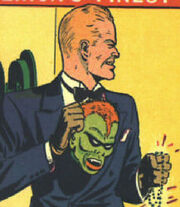 Public Domain Appearances
Big Shot Comics #1-104
The Face #1-2
Skyman #1
Sparky Watts #1
Tony Trent #3-4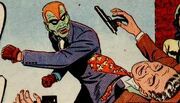 See Also
Ad blocker interference detected!
Wikia is a free-to-use site that makes money from advertising. We have a modified experience for viewers using ad blockers

Wikia is not accessible if you've made further modifications. Remove the custom ad blocker rule(s) and the page will load as expected.