Flying Dutchman



Real Name

Unknown

First Appearance

Air Fighters #2 (1942)

Original Publisher

Hillman

Created by

Bob Fujitani
Golden Age Origin
The Flying Dutchman was an aviator from the Netherlands whose family was killed by Nazis. He takes revenge for his family by killing the murderers and then flying as an air mercenary for the Allies. His identity is never revealed but his first name is hinted as being Jan. After each victorious battle, the Dutchman would drop white roses equal to the amount of Nazis he shot down. The Flying Dutchman battled such enemies as the Deathless Brain.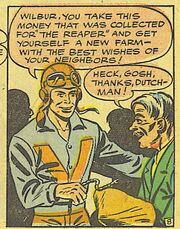 In addition to being an ace fighter pilot, the Flying Dutchman was also a good fist fighter, and usually carried a pair of handguns on his hips.
Golden Age Appearances
Air Fighters Comics v1 #2-12, v2 #1-9
Airboy Comics v2 #11-12, v3 #1-2, #4-7, #9
See Also
Ad blocker interference detected!
Wikia is a free-to-use site that makes money from advertising. We have a modified experience for viewers using ad blockers

Wikia is not accessible if you've made further modifications. Remove the custom ad blocker rule(s) and the page will load as expected.