High Priestess of the Snake People

'

Real Name

Gilda

First Appearance

Challenge of the Unknown #6 (1950)

Original Publisher

Ace

Created by

Unknown
Golden Age Origin
Gilda was the leader of a cult of snake worshipers near the village of Zellmott. She would recruit new members by transforming into a snake and biting them. She was killed when Michael Corning, her latest victim, and "the old man" destroyed her temple with dynamite.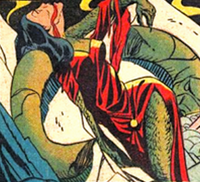 Powers
Gilda could transform into a snake, and her venom would transform her victims into scaled, snake-like people, changing their bodies over the course of weeks.
Golden Age Appearances
Challenge of the Unknown #6 (in "High Priestess of the Snake People")
Ad blocker interference detected!
Wikia is a free-to-use site that makes money from advertising. We have a modified experience for viewers using ad blockers

Wikia is not accessible if you've made further modifications. Remove the custom ad blocker rule(s) and the page will load as expected.