Grag

Major Mars and Grag

Real Name

Grag

First Appearance

Exciting Comics #1 (1940)

Original Publisher

Nedor

Created by

Max Plaisted
Golden Age Origin
Robot assistant to
Major Mars
in the 40th Century. Grag houses an artificial intelligence in its synthetic brain and has great physical strength and a powerful damage resistant shiny metal body. He was built by Major Mars and thanks to his synthetic brain he can think and speak. Grag helps the Major defeat Emperor Kells of Jupiter from turning the residents of the Jupiter colony into beast men.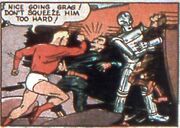 Golden Age Appearances
Exciting' Comics # (issues renewed from 1 (April 1940) to 23 (Vol 8 #2 Dec 1942))
Notes
Major Mars was initially created as a pulp fiction character called Captain Future and also had a robot assistant named Grag.
Ad blocker interference detected!
Wikia is a free-to-use site that makes money from advertising. We have a modified experience for viewers using ad blockers

Wikia is not accessible if you've made further modifications. Remove the custom ad blocker rule(s) and the page will load as expected.