Grenade



Real Name

Bruce Corbet

First Appearance

Captain Flight #5 (1944)

Original Publisher

Four Star

Created by

Bill Boynansky
Golden Age Origin
Bruce was a reporter for the City Star newspaper in New York and he was married to a beautiful nightclub singer who sang at Mr. Pompernickle's night club. After his brother, Danny, was killed by a grenade in a botched assassination attempt by Nazi agents, Bruce decided to avenge his brother as The Grenade!
The Grenade was a skilled fighter, capable of taking on a whole room full of armed men by hand. He apparently carried at least one grenade with him, and used it to kill his brother's killers. The Grenade was also a highly skilled pilot with access to his own plane.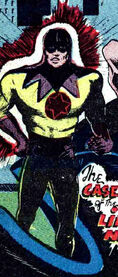 Golden Age Appearances
Notes
Modified re-prints of the Grenade were run in Ghostly Weird Stories #122 and Blue Bolt Weird Tales of Terror #111 as the Mask (Star Publications).
See Also