Human Fly



Real Name

Dan Garret

First Appearance

Human Fly #1 (1958)

Original Publisher

I.W. Publishing

Created by

Carl Burgos
Golden Age Origin
This character only appeared on the cover of Human Fly, which featured rebound reprinted comics that were different with each issue. One can assume that he is a revamp of Blue Beetle as issue #10 clearly states the comic features the Blue Beetle on the cover.
Golden Age Appearances
See Also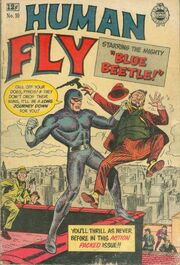 Ad blocker interference detected!
Wikia is a free-to-use site that makes money from advertising. We have a modified experience for viewers using ad blockers

Wikia is not accessible if you've made further modifications. Remove the custom ad blocker rule(s) and the page will load as expected.