Ad blocker interference detected!
Wikia is a free-to-use site that makes money from advertising. We have a modified experience for viewers using ad blockers

Wikia is not accessible if you've made further modifications. Remove the custom ad blocker rule(s) and the page will load as expected.
Jewel

Jewel arises from her magical slumber

Real Name

Jewel

First Appearance

Baffling Mysteries #10 (1952)

Created by

Paul Gattuso
Golden Age Origin
Jewel was a witch who appeared in the story Monster of the Moat in Baffling Mysteries #10.[1] She was the first wife of the sorcerer Count Larue. When the Count found out about her magical powers, he attempted to neutralize her by giving her a potion that put her to sleep for a hundred years. However, in revenge, she put a spell on the count causing him to transform into a photophobic monster during the day.
Powers and Abilities
Jewel is pictured as a powerful witch who, despite succumbing to the Count's trickery, still got her revenge by magically compelling him to assume a monstrous form during the day.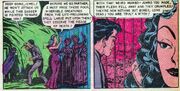 On coming out of her trance, she used her powers to "free" the other wives of the Count, whose lives he had magically preserved, by causing them to die.
Golden Age Appearances
References
↑ Baffling Mysteries #10 at the Digital Comic Museum