Joan Mason



Real Name

Joan Mason

First Appearance

Blue Beetle #4 (1940)

Original Publisher

Fox Features Syndicate

Created by

Charles Nicholas
Golden Age Origin
Always dressed in red, Joan Mason was an American crime reporter who, at different periods of her career, wrote for The Bulletin, Daily Blade, New York Chronicle and Daily Planet. She was Dan Garret's on-again, off-again girlfriend. She never figured out her love interest was secretly the Blue Beetle but, otherwise, was fairly smart and capable; even coming up with plans on how to capture criminals such as the Sinister Sphinx. Her father was an admiral in the Navy.
Aside from appearing in Blue Beetle stories, she had her own feature during the mid-1940s.
Golden Age Appearances
All Great Comics
Blue Beetle #4,13,31-41,47-48,57-60
Book of All-Comics #1
Everybody's Comics #1 [1944 series]
Mystery Men Comics #15
Phantom Lady #13
Zoot Comics #7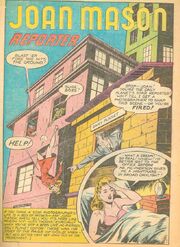 See Also
Ad blocker interference detected!
Wikia is a free-to-use site that makes money from advertising. We have a modified experience for viewers using ad blockers

Wikia is not accessible if you've made further modifications. Remove the custom ad blocker rule(s) and the page will load as expected.