John Kidd



Real Name

John Kidd

First Appearance

Danger Is Our Business! #1 (1953)

Original Publisher

Toby/Minoan

Created by

Al Williamson
Origin
John Kidd was a notorious and ruthless space pirate who worked for the government of the outer planets of our solar system. He was the arch enemy of Captain Comet, and a descendant of the sea pirate, Captain Kidd.
Powers and Abilities
He was ruthless, good with his fists, and quick with a ray gun.
Public Domain Appearances
Danger Is Our Business! #1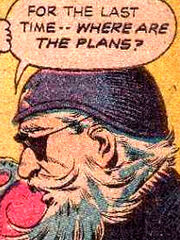 Ad blocker interference detected!
Wikia is a free-to-use site that makes money from advertising. We have a modified experience for viewers using ad blockers

Wikia is not accessible if you've made further modifications. Remove the custom ad blocker rule(s) and the page will load as expected.