Jungleman



Real Name

Unknown

First Appearance

Champion Comics #2 (1939)

Original Publisher

Harvey

Created by

C. A. Winter
Golden Age Origin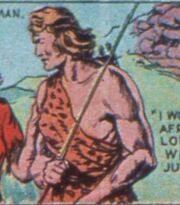 Jungleman was a white savage who lived in the jungles near Angkor in Cambodia. He was friends with all the animals of the jungle, particularly an albino tiger that he called Keeta. In addition to being able to call on them for help, Jungleman was a strong fighter, proficient with primitive weapons such as knives, spears and blowguns. Jungleman did not speak English, but he managed to become friends with Louise Carson and her father, who came to study the ruins of Angkor Wel. Louise soon fell in love with him.
Golden Age Appearances
Champion Comics #2-12, 14-17
Spitfire Comics #132
See Also
Ad blocker interference detected!
Wikia is a free-to-use site that makes money from advertising. We have a modified experience for viewers using ad blockers

Wikia is not accessible if you've made further modifications. Remove the custom ad blocker rule(s) and the page will load as expected.