K-Bar Kate



Real Name

Kate Slocum

First Appearance

Western Crime Busters #1 (September, 1950)

Original Publisher

Trojan

Created by

Rex Maxon [as R. Hayden]
Golden Age Origin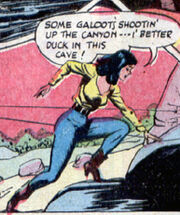 Kate was the daughter of Mr. Slocum, who owned the K-Bar Ranch. She lived in the 20th century and had gone to school in New York, but returned to the ranching lifestyle. At the ranch she had a number of adventures, usually involving local criminals. Kate had a best friend named Jane Drake and her boyfriend was Deputy Don Howell.
Kate sometimes carried a revolver on her hip, and she was a crack shot with it. She was tenacious, a resourceful fighter and a skilled rider.
Golden Age Appearances
Western Crime Busters #1-8
Ad blocker interference detected!
Wikia is a free-to-use site that makes money from advertising. We have a modified experience for viewers using ad blockers

Wikia is not accessible if you've made further modifications. Remove the custom ad blocker rule(s) and the page will load as expected.