Ad blocker interference detected!
Wikia is a free-to-use site that makes money from advertising. We have a modified experience for viewers using ad blockers

Wikia is not accessible if you've made further modifications. Remove the custom ad blocker rule(s) and the page will load as expected.
King of Darkness

King of Darkness and his Black-Zero Transmitter

Real Name

Bruce King

First Appearance

Amazing Man Comics #24 (1941)

Original Publisher

Centaur

Created by

Harry Francis Campbell & Taylor
Golden Age Origin
Radio engineer Bruce King stumbled across a strange phenomenon while working with ultra short radio waves. First, he came across the neutralization of heat waves, with intense cold resulting. Then, on a shorter wave, there was complete, impenetrable darkness, totally neutralizing light. Wearing his insulated suit and special night vision goggles, Bruce uses a Black-Zero Transmitter device which can project a beam of absolute darkness or freezing cold. He also invents an anti-gravity wave so that he can fly. He uses these devices to capture criminals and to become the adventurer King of Darkness.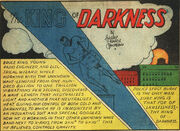 Golden Age Appearances
Amazing Man Comics #24-26
See Also