King of Darkness

King of Darkness and his Black-Zero Transmitter

Real Name

Bruce King

First Appearance

Amazing Man Comics #24 (1941)

Original Publisher

Centaur

Created by

Harry Francis Campbell & Taylor
Golden Age Origin
Radio engineer Bruce King stumbled across a strange phenomenon while working with ultra short radio waves. First, he came across the neutralization of heat waves, with intense cold resulting. Then, on a shorter wave, there was complete, impenetrable darkness, totally neutralizing light. Wearing his insulated suit and special night vision goggles, Bruce uses a Black-Zero Transmitter device which can project a beam of absolute darkness or freezing cold. He also invents an anti-gravity wave so that he can fly. He uses these devices to capture criminals and to become the adventurer King of Darkness.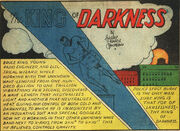 Golden Age Appearances
Amazing Man Comics #24-26
See Also
Ad blocker interference detected!
Wikia is a free-to-use site that makes money from advertising. We have a modified experience for viewers using ad blockers

Wikia is not accessible if you've made further modifications. Remove the custom ad blocker rule(s) and the page will load as expected.