The Lancer



Real Name

Lance Larter

First Appearance

Super Mystery Comics vol. 3 #4 (April 1943)

Original Publisher

Ace Periodicals

Created by

Unknown
Origin
Gaining superhuman strength and armed with a magical lance whenever his friend Arthur Lake, the Sword, draws the Excalibur, Lance also transforms, becoming the Lancer. He was able to use his magic lance as a melee weapon, or throw it like a javeline with amazing accuracy. He was also good at stuffing its tip down the barrel of a gun, causing an enemy's gun to backfire.
Public Domain Appearances
Super Mystery Comics vol. 3 #4 - vol. 5 #3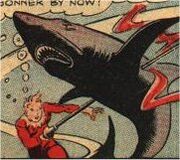 See Also
Ad blocker interference detected!
Wikia is a free-to-use site that makes money from advertising. We have a modified experience for viewers using ad blockers

Wikia is not accessible if you've made further modifications. Remove the custom ad blocker rule(s) and the page will load as expected.