Ad blocker interference detected!
Wikia is a free-to-use site that makes money from advertising. We have a modified experience for viewers using ad blockers

Wikia is not accessible if you've made further modifications. Remove the custom ad blocker rule(s) and the page will load as expected.
The Liberator

The Liberator

Real Name

Dr. Nelson Drew

First Appearance

Exciting Comics #15 (Dec 1941)

Original Publisher

Nedor

Created by

Unknown
Golden Age Origin
The Liberator is the secret identity of Professor Nelson Drew, a chemistry teacher at Claflin University. He discovers an ancient Egyptian formula called Lamesis that temporarily transforms his body into his "ideal" form, giving him superhuman strength, speed and invunerability. He could also hold his breath for an extended length of time. Drew found the transformation to be a painful experience as it rapidly altered his muscles and bones, and the transformation would sometimes revert at the most inopportune moments.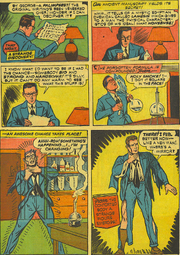 Golden Age Appearances
America's Best Comics #1, 3-5, 8 (issues renewed from 2 (September 1942) to 3 (November 1942)) [1]
Exciting Comics #15-30, 34, 35 (issues renewed from 1 (April 1940) to 23 (Dec 1942)) [2]
See Also
Footnotes