Little Bear

Little Bear (right) with Green Arrowhead

Real Name

Sandy Morgan

First Appearance

Indian Braves #3 (1951)

Original Publisher

Ace Magazines

Created by

Jim McLaughlin
Origin
When a ruthless cattleman named Rufe Broderick murders the parents of Sandy Morgan by setting their house on fire, Choctaw warrior, Green Arrowhead, rescues Sandy and takes the orphaned child back to his tribe to raise.
Resistant at first to integration with the tribe, Sandy soon learns the Choctaw Code and the ways of the tribe. At the age of 13, Sandy becomes blood brothers with Green Arrowhead and a member of the tribe. He is given the name Little Bear by Green Arrowhead's brother, Chief Bold Eagle.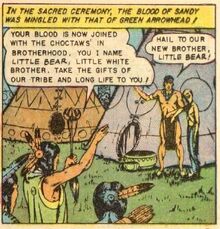 When Little Bear discovers Rufe Broderick murdered his parents, he sets of to confront the killer. When he finds him, Rufe soon gets the advantage. Rufe is in the process of throwing Little Bear of a cliff when Green Arrowhead intervenes, Later, Little Bear saves Green Arrowhead from drowning when the latter falls from a cliff into a river.
Powers and Abilities
Under the tutelage of members of the Choctaw Tribe and Green Arrowhead's mentorship, Little Bear becomes an accomplished hunter with a bow-and-arrow and equestrian.
Public Domain Appearances
Ad blocker interference detected!
Wikia is a free-to-use site that makes money from advertising. We have a modified experience for viewers using ad blockers

Wikia is not accessible if you've made further modifications. Remove the custom ad blocker rule(s) and the page will load as expected.