Manx



Real Name

Unknown

First Appearance

Mystery Men Comics #26 (September 1941)

Original Publisher

Fox

Created by

Walter Frame
Golden Age Origin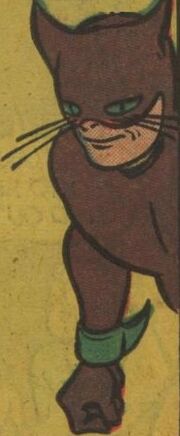 The Manx is a villain who attempts to blackmail a murderer for money. The Green Mask gets involved and battles the Manx. Manx is stopped and sent to jail, but not before he kills the murderer.
He does not appear to have any powers.
He uses a green, steel claw on his right wrist to cut people's throats.
Golden Age Appearances
See Also
Ad blocker interference detected!
Wikia is a free-to-use site that makes money from advertising. We have a modified experience for viewers using ad blockers

Wikia is not accessible if you've made further modifications. Remove the custom ad blocker rule(s) and the page will load as expected.