Menace



Real Name

Dennis Temple

First Appearance

KO Comics #1 (1945)

Original Publisher

Gerona

Created by

Unknown
Origin
Dennis Temple, actor and private eye, is the most hated man in the movie business (since he often plays the bad guy). He has a blonde actress fiancee named Rita Wilson, who is far more popular than he is. Dennis is secretly the crime fighter known as the Menace, but Rita does not know of his dual life. The Menace has no super powers but is a skilled fighter; plus, he uses a variety of gadgets in his war against crime.
Golden Age Appearances
Top Spot Comics
KO Comics
Triple Threat Comics
See Also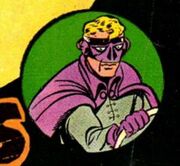 Ad blocker interference detected!
Wikia is a free-to-use site that makes money from advertising. We have a modified experience for viewers using ad blockers

Wikia is not accessible if you've made further modifications. Remove the custom ad blocker rule(s) and the page will load as expected.