Ad blocker interference detected!
Wikia is a free-to-use site that makes money from advertising. We have a modified experience for viewers using ad blockers

Wikia is not accessible if you've made further modifications. Remove the custom ad blocker rule(s) and the page will load as expected.
Merciless the Sorceress



Real Name

Unknown

First Appearance

All Top Comics (1944)

Original Publisher

Fox Features

Created by

Unknown
Golden Age Origin
The wicked Merciless the Sorceress was ruler of the land of Volcano People. Her enemies included Captain Bob Darlington, his assistant "the Professor," and his pilot "Happy" Jack Smiles. Her powers included transforming men into animals, being bulletproof, disintegration, flight, and numerous other powers.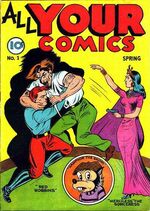 Golden Age Appearances
All Top Comics (unnumbered one-shot)
All Your Comics (unnumbered one-shot)
All Your Comics #1
Book Of Comics(unnumbered one-shot)
See Also