Mickey Matthews

Mickey Matthews

Real Name

Mickey Matthews

First Appearance

Cat-man Comics #1 (1941)

Original Publisher

Holyoke / Tem

Created by

Al Ulmer
Golden Age Origin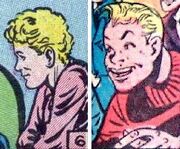 After the Deacon saved his life, Mickey Matthews became his young sidekick. He was also best friends with Cat-Man's sidekick Kitten. They formed the Little Leaders when they first met at a summer camp. later, it became part of their effort to inspire the youth of America.
Like many younger Golden Age characters, Mickey got older as the stories progressed, growing from an elementary school kid to a teenager.
Golden Age Appearances
Ad blocker interference detected!
Wikia is a free-to-use site that makes money from advertising. We have a modified experience for viewers using ad blockers

Wikia is not accessible if you've made further modifications. Remove the custom ad blocker rule(s) and the page will load as expected.