Mojo

'

Real Name

Unknown

First Appearance

Fighting Yank #9 (1944)

Original Publisher

Nedor

Created by

Unknown
Golden Age Origin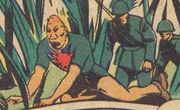 The Japanese come up with a way to shrink soldiers temporarily to the size of insects and use this to send over squads of soldiers and saboteurs. The leader of this force is Mojo. Mojo is particularly beast-like in his features complete with egg shaped head and fangs. However, he and the invading force are stopped by the Fighting Yank.
Golden Age Appearances
Ad blocker interference detected!
Wikia is a free-to-use site that makes money from advertising. We have a modified experience for viewers using ad blockers

Wikia is not accessible if you've made further modifications. Remove the custom ad blocker rule(s) and the page will load as expected.