Mr. Justice



Real Name

Prince James of England

First Appearance

Blue Ribbon Comics #9 (February 1941)

Original Publisher

MLJ

Created by

Joe Blair and Sam Cooper
Golden Age Origin
Prince James of England was murdered in the 11th century A.D. after being lured to Rogers Castle in Scotland. The murder was part of the Rogers Rebellion.
In 1940, his castle was being transported brick by brick to America by boat, but a Nazi U-boat sunk the ship. This awoke James' spirit and he reassumed a corporeal form.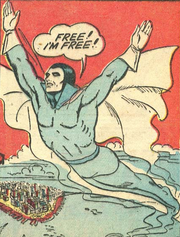 He decided to become a crime fighter and soon had a love interest named Pat Clark. His enemies include the King of Vampires, Satan, and Green Ghoul (1).
Golden Age Appearances
Notes
While the golden age MLJ Mr. Justice is public domain, the version used by Archie comics in the Mighty Crusaders and cameos is NOT.
In the 1960s, he was part of a team known as the Terrific Three with Steel Sterling and The Jaguar in issues #4-5 of Mighty Crusaders.
See Also
Ad blocker interference detected!
Wikia is a free-to-use site that makes money from advertising. We have a modified experience for viewers using ad blockers

Wikia is not accessible if you've made further modifications. Remove the custom ad blocker rule(s) and the page will load as expected.