Mr. Scarlet



Real Name

Brian Butler

First Appearance

Wow Comics #1 (1940)

Original Publisher

Fawcett Publications

Created by

France Herron & Jack Kirby
Golden Age Origin
District attorney Brian Butler, frustrated by his inability to put away all the criminals, becomes the crime-busting costumed vigilante Mr. Scarlet at midnight every night. Unfortunately, Mr. Scarlet is so successful that he puts himself out of a job. So, by day, he looks for odd jobs to support himself, and at night, he fights evil as Mr. Scarlet, the "Red Knight of Justice." He is assisted by both his secretary, Miss Cherry Wade, and by his young sidekick, Pinky. Mr. Scarlet has one super power - the ability to fly. Mr. Scarlet also carries a ray gun that he rarely uses, usually relying on his wits and fighting ability.
His enemies included the seven members of the original Death Battalion, The Black Sphinx, The Boss, Hypo Kondriak, Mr. Hyde and Morto, Spirit of Murder, among others.
Public Domain Golden Age Appearances
Wow Comics #1-35
America's Greatest Comics #1-7
Captain Marvel Adventures #22
Gift Comics 1-2
Holiday Comics 1
Mighty Midget Comics: Mr. Scarlet (12)
X-Mas Comics 1-2
Copyrighted Golden Age Appearances
Notes
Only the golden age version of Mr. Scarlet (as depicted in the comics that fell into public domain) is public domain. Non-public domain Golden Age appearances are under copyright of DC Comics, which owns the version of the character based on those comics and all subsequent versions published under DC comics banner.
It is believed that he was intended to appear in what eventually became the Captain America serial, but that when he lost popularity, the serial's producers replaced him with Captain America. [Another possible candidate is the Mask, aka District Attorney Anthony "Tony" Colby, who was blinded but regained his sight with the help of his beautiful secretary.]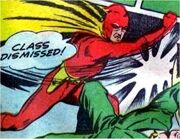 See Also
Ad blocker interference detected!
Wikia is a free-to-use site that makes money from advertising. We have a modified experience for viewers using ad blockers

Wikia is not accessible if you've made further modifications. Remove the custom ad blocker rule(s) and the page will load as expected.