Neptune



Real Name

Neptune

First Appearance

Unknown

Original Publisher

Greek Mythology

Created by

Unknown
Origin
Neptune (known as Poseidon in Greek Mythology) was the god of the sea in Greco-Roman mythology. He was one of the Twelve Olympians, the brother of Zeus and Pluto of Hades. He was also the father to many sea nymphs and other creatures.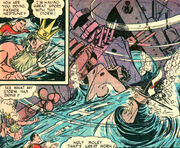 Public Domain Appearances
Captain Marvel Comics vol. 4 #11
Humdinger vol. 1 #4
Mystery Men Comics #24
Hit Comics #2
Pep Comics #20
Blue Circle Comics #1-5
America's Greatest Comics #5
Nature Boy #3-5
Feature Comics #70, 92
Hoppy the Marvel Bunny #9
Weird Comics #2
Weird Comics #10
Master Comics #41
A Treasury of Horses
See Also
Ad blocker interference detected!
Wikia is a free-to-use site that makes money from advertising. We have a modified experience for viewers using ad blockers

Wikia is not accessible if you've made further modifications. Remove the custom ad blocker rule(s) and the page will load as expected.