Nitro



Real Name

Terry King/Allen

First Appearance

Dime Comics #14 (1942)

Original Publisher

Commercial Signs of Canada/Bell Features

Created by

Jerry Lazare
Origin
By day, Terry King (later changed to Terry Allen with no explanation as to why) was a young police chemist. By night, he was the non-powered & shirtless crime-fighter... Nitro! He once teamed up with Wing.
Powers and Abilities
Non-powered.
Golden Age Appearances
Commando Comics #21
Dime Comics 14-26
Joke Comics #17, 25
Nitro Comics #1-2
Slam-Bang Comics #7
Notes
Not to be confused with the Marvel or Valiant Comics characters of the same name who are NOT in the public domain.
Nitro's team-up with Wing by Jerry Lazare was actually a Phantom Lady & Raven story he had re-drawn from Police Comics #20.
An obituary for Johnny Canuck dated April 14, 1978 (published by St. Catharines Standard (and done as though the character had been a real-life hero), stated that, after a failed marriage to Nitro, Wing got remarried to Johnny in May, 1967.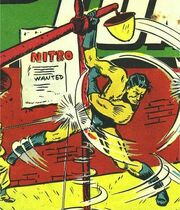 See Also