Ad blocker interference detected!
Wikia is a free-to-use site that makes money from advertising. We have a modified experience for viewers using ad blockers

Wikia is not accessible if you've made further modifications. Remove the custom ad blocker rule(s) and the page will load as expected.
Nitro



Real Name

Terry King/Allen

First Appearance

Dime Comics #14 (1942)

Original Publisher

Commercial Signs of Canada/Bell Features

Created by

Jerry Lazare
Origin
By day, Terry King (later changed to Terry Allen with no explanation as to why) was a young police chemist. By night, he was the non-powered & shirtless crime-fighter... Nitro! He once teamed up with Wing.
Powers and Abilities
Non-powered.
Golden Age Appearances
Commando Comics #21
Dime Comics 14-26
Joke Comics #17, 25
Nitro Comics #1-2
Slam-Bang Comics #7
Notes
Not to be confused with the Marvel or Valiant Comics characters of the same name who are NOT in the public domain.
Nitro's team-up with Wing by Jerry Lazare was actually a Phantom Lady & Raven story he had re-drawn from Police Comics #20.
An obituary for Johnny Canuck dated April 14, 1978 (published by St. Catharines Standard (and done as though the character had been a real-life hero), stated that, after a failed marriage to Nitro, Wing got remarried to Johnny in May, 1967.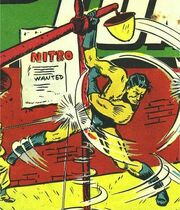 See Also