Ad blocker interference detected!
Wikia is a free-to-use site that makes money from advertising. We have a modified experience for viewers using ad blockers

Wikia is not accessible if you've made further modifications. Remove the custom ad blocker rule(s) and the page will load as expected.
Old King Cole



Real Name

Cole

First Appearance

"Old King Cole" (nursery rhyme) (1700s)

Original Publisher

British Nursery Rhyme

Created by

Unknown
Origin
"Old King Cole" is a British nursery rhyme most likely deriving from ancient Wales. The historical identity of King Cole has been much debated and several candidates have been advanced as possibilities.
The most common modern version of the rhyme is:
Old King Cole was a merry old soul
And a merry old soul was he;
He called for his pipe, and he called for his bowl
And he called for his fiddlers three.
Every fiddler he had a fiddle,
And a very fine fiddle had he;
Oh there's none so rare, as can compare
With King Cole and his fiddlers three.
Public domain literary appearances
"Old King Cole" (nursery rhyme), Roud Folk Song Index no. 1164.

The Nursery Rhymes of England, Collected Principally from Oral Tradition, collected by James Halliwell‐Phillipps, 1842. (HathiTrust)
Songs from Mother Goose for Voice and Piano, music by Sidney Homer (op. 36), 1919. (Internet Archive)

Old King Cole: An Operetta Given in the Aid of the Cambridge Division of the Massachusetts Indian Association …, by James B. Greenough and F. D. Allen, 1889. (HathiTrust)
"Old King Cole," in Mother Goose in Prose, by L. Frank Baum, 1897. (Internet Archive)
Runaway Robinson, by Charles M. Snyder, 1901. (HathiTrust)
"Tito's Home‐made Picture‐Book," by George Frederick Welsford, St. Nicholas, vol. 31, no. 7, May 1904. (Internet Archive)
"A Message to Mother Goose," by Ellen Manly, St. Nicholas, vol. 32, no. 2, Dec. 1904. (Internet Archive)
"Old King Cole," in Old King Cole and Four Other Stories …, by John Martin (pseudonym of Morgan Shepard), 1911. (Internet Archive)
The Marriage of Jack and Jill: A Mother Goose Entertainment in Two Scenes, by Lilian Clisby Bridgham, 1913. (Internet Archive)
"Old King Cole: A Parody," by G. K. Chesterton, The Living Age, vol. 308, no. 3993, 15 Jan. 1921. (HathiTrust)
"There Was a Boy Who Lived on Pudding Lane: A True Account, if Only You Believe It, of the Life and Ways of Santa, Eldest Son of Mr. and Mrs. Claus," by Sarah Addington, The Ladies' Home Journal, vol. 38, no. 12, Dec. 1921. (HathiTrust)
Public Domain Comic Appearances
Koko and Kola #2
Fawcett's Funny Animals #13
Four Color #41,59,68,90,103,126
Kid Koko #2
Public Domain Comics Inspired by Old King Cole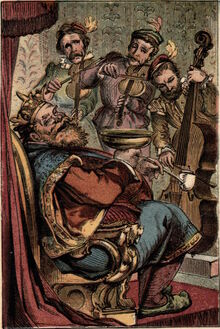 See Also
External links