Panther Woman



Real Name

Marga

First Appearance

Science Comics #1 (February 1940)

Original Publisher

Fox Features Syndicate

Created by

Emil Gershwin
Golden Age Origin
Marga the Panther Woman was raised by a group of black panthers and inoculated with their abilities such as superhuman strength and cat-like claws. She was a highly skilled fighter, hunter and athlete, capable of bending steel bars, punching out an elephant, or swinging a lion by its tail. She was at one time, aided by a former police dog named Homer. She eventually left the jungle to joins her aviator boyfriend Ted Grant on adventures.
Golden Age Appearances
Science Comics #1-8
Weird Comics #8-20
Notes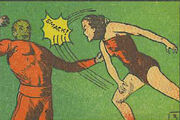 See Also
Ad blocker interference detected!
Wikia is a free-to-use site that makes money from advertising. We have a modified experience for viewers using ad blockers

Wikia is not accessible if you've made further modifications. Remove the custom ad blocker rule(s) and the page will load as expected.