Patsy Pinup



Real Name

Patsy Pinup

First Appearance

Jumbo Comics #94 (Dec. 1946)

Created by

Unknown (pseudonym used was "Swing Sista")
Origin
Patsy Pinup was a filler character whose adventures were told in 1-page stories (or "pin-ups") throughout early Fiction House publications. She was a model who would do anything from solving a crime to saving a drowning Hollywood actor... and look good while doing it!
Public Domain Appearances
Although billed as "posing in every issue of Jumbo Comics," she actually only appeared 9 times:
Jumbo Comics #94-95, 99
Fight Comics #47-51, 62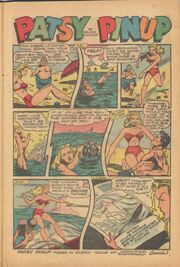 Notes
Over the course of her appearances, there were a few different artists/writers credited with her stories but, most were most likely pseudonyms and thus, could have been men (which was common at the time).
See Also
Ad blocker interference detected!
Wikia is a free-to-use site that makes money from advertising. We have a modified experience for viewers using ad blockers

Wikia is not accessible if you've made further modifications. Remove the custom ad blocker rule(s) and the page will load as expected.