Pin-Up Pete



Real Name

Pete

First Appearance

Monty Hall of the U.S. Marines #1 (August 1951)

Original Publisher

Toby/Minoan

Created by

Jack Sparling
Origin
Pin-Up Pete was an American GI who had courted more beautiful girls from Shanghai to St. Louis. By his own confession, Pete's name was synonymous with full moons, romances, sighs, and broken hearts.
Public Domain Appearances
Monty Hall of the U.S. Marines #1, 3-11
Pin-Up Pete #1
Notes
Pin-Up Pete was billed as "the loves of a GI Casanova" but, much like Lover O'Leary, all it was was the title character showing his buddies a different picture of a different girl on each page and telling a (very self-serving) story about her.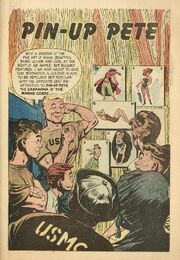 See Also
Ad blocker interference detected!
Wikia is a free-to-use site that makes money from advertising. We have a modified experience for viewers using ad blockers

Wikia is not accessible if you've made further modifications. Remove the custom ad blocker rule(s) and the page will load as expected.