Ad blocker interference detected!
Wikia is a free-to-use site that makes money from advertising. We have a modified experience for viewers using ad blockers

Wikia is not accessible if you've made further modifications. Remove the custom ad blocker rule(s) and the page will load as expected.
Pluto of Hades



Real Name

Pluto (Roman name) or Hades (Greek name)

Created by

The Greeks
Golden Age Origin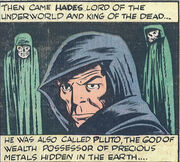 Pluto (known as Hades in Greek Mythology) was the god placed in charge of Hades, the underworld in Greco-Roman mythology. He was the brother of Jupiter (
Zeus
) and
Neptune
(Poseidon). He later abducted and then married the goddess Persephone.
Golden Age Appearances
Wham Comics #2
National Comics #32
Airboy Comics vol. 3 #4
Zip Comics #40
All Good Comics
Humdinger vol. 1 #4